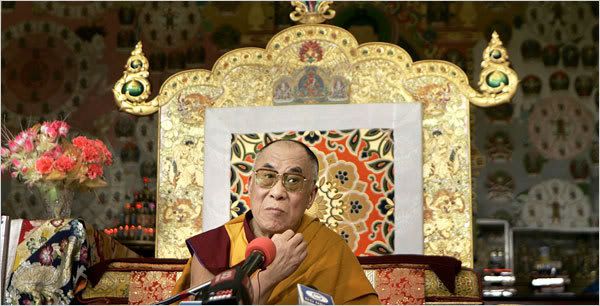 Gurinder Osan/Associated Press
I mean, I'm for non-violence as well, and I don't think that Tibetans should throw themselves on the fire when there's no hope of winning, but you're the Dalai Lama, and you say publicly that independence is "out of the question"?
Man, there goes another petal from the flower of life.
Press Trust of India
DHARAMSHALA, March 18: Facing increasing criticism for his "Middle way" policy, the Dalai Lama today threatened to quit as the head of the Tibetan exile movement if the unrest in Tibet got out of control and rejected Chinese charges that he was inciting violence there.
Asserting he did not want Independence for Tibet by wresting control from China, the 73-year-old spiritual leader also appealed to his fellow men to remain calm and not not to resort to violence. The Dalai Lama said he wanted "good relations" with China and that he is opposed to all forms of violence.
"If Tibetans choose violence in their agitation and if things become out of control (in Tibet) then my only option is to completely resign," he told reporters at his home in Dharamshala, the headquarters of the Tibetan government-in-exile.
The Dalai Lama's comments came hours after Chinese Premier Mr Wen Jiabao blamed him for the violence in Tibet and said Beijing would only hold talks with the spiritual leader if he gave up Independence ambitions for his homeland. The Dalai Lama, however, made it clear "Independence is out of the question". "Even if 1,000 Tibetans sacrifice their lives, it will not help." Tibet's spiritual leader consistently insisted that he only wanted a high degree of autonomy for Tibet under Chinese rule. But his "Middle Way" policy ~ espousing non-violence and autonomy ~ has made him under attack from younger, more radical exiled Tibetans.